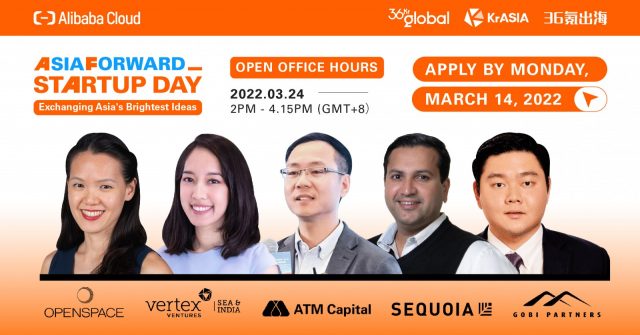 Sunwah Innovations is pleased to nominate 5 Vietnamese startups to enter one-on-one chats with Asia's leading VCs at the Open Office Hour session within the AsiaForward Startup Day 2022 on 24 March, held by @Alibaba Cloud and @KrAsia.
These are the VC investors who will be available during Open Office Hours:
Mr

Minjun Liang – Founding Partner at ATM Capital

Ms Adele Teh – Senior Associate at Openspace Ventures

Mr Johan Surani – Vice President of Sequoia India

Ms Dhia Izza Nabila – Associate Director at Vertex Ventures Southeast Asia & India

Mr Jason Gaisano – Venture Partner at Gobi Partners
This is a great chance for startups to seek guidance and suggestions from the VC investors on fundraising, business scaling, building strategic partnership and more. Each selected startup will be matched with one of the VC representatives based on its nature and interest. These dialogues will also be open for representatives of other startups to listen in.
Submit your deck at this link https://bit.ly/afstartupday-article by 14 March, 22:59. (Vietnam time) to join the session.
If you are interested in joining the one-on-one conversations with the VCs via Sunwah Innovations' nomination, please contact Ms. Thuy Ho thuy.ho@swinno.com.vn before the above deadline.