(28 May 2021)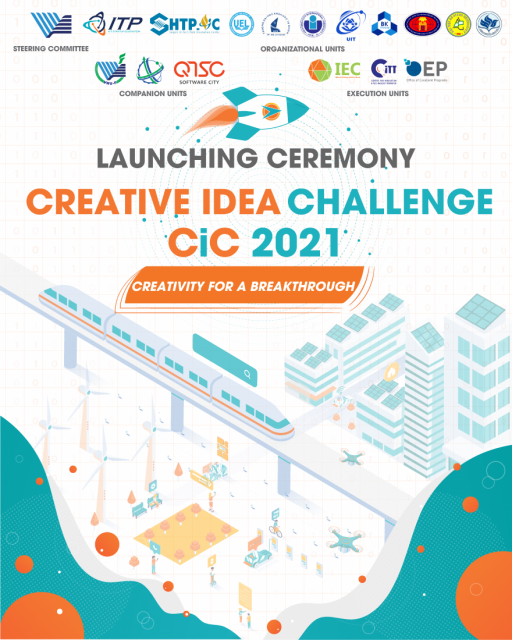 Sunwah Innovations is pleased to extend the invitation from VNUHCM Innovative Entrepreneurship Center under VNUHCM Information Technology Park, one of the SWIIP Partners, to our international university partners to nominate their student teams to join the 6th season of "CREATIVE IDEA CHALLENGE – CiC 2021".
CiC is the startup competition annually held for students across Vietnam. The contest, part of a series of VNUHCM startup programs, is a strategic mission that will positively contribute to the Eastern highly interactive innovation urban area – Thu Duc City.
This year is the first time CiC is open the application for international students to foster cross-border exchanges, knowledge sharing among the students who share the entrepreneurial spirit and passion for innovation.
Introduction:
Creative Idea Challenge – CiC 2021 is a competition accompanied by universities and supported by Ho Chi Minh City Department of Science and Technology, VNU-HCM Start-up Fund. It is held for the purpose of:
Creating practical environment;

Enhancing skills and knowledge;

Inspiring Entrepreneurship.
Candidates:
English version (competing with International teams and Vietnamese students speaking English):
One team includes 2 – 4 students studying from Colleges, Universities, Intermediate schools, and International/ National Institutes.
Or
Students who have graduated no more than 12 months from March 19th, 2021.
Joining CiC, you will have:
Realistically Practical environment:

Combining playing and learning with 2 days 1 night bootcamp for 80 teams;

One trip to Singapore/Korea for the winning team;

Enhancing knowledge, experience, and skills through business companion events;

Expanding relationships, making friends, experts, investors, founders/entrepreneurs;

Supporting to complete sample products/prototypes with technology application projects;

Calling for investment capital for the project;

Participating in startup incubators and accelerator programs of ITP and international partners after the competition;

Having opportunities to receive thousands of valuable prizes.
Prizes for the winning team:
50,000,000 VND (cash);

Short-term visit and study in Singapore/Korea worth 100 million VND;

Support package from VNU-HCM Data Center (VNU.DC);

1 year incubation package at ITP worth 100 million VND;

And other prizes from partners.
How to register:
Link to register for the contest: http://bit.ly/apply_cic2021

Registration period: March 19th to June 9th, 2021
Further information: