(11 June 2021)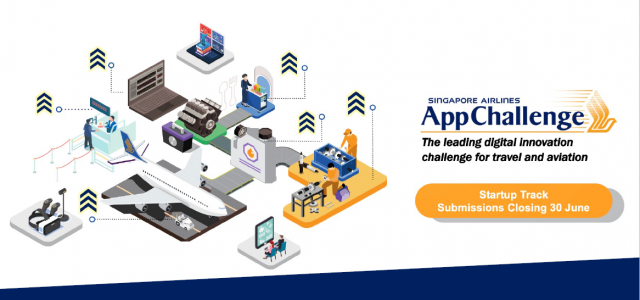 Sunwah Innovations cordially invite Vietnamese young talents who are passionate about innovation to join the 7th Singapore Airlines (SIA) AppChallenge which focuses on finding digital solutions to challenges in travel and aviation industry. This is a good opportunity for startups around the world with innovative solutions to partner with a leading airlines to changing they way people travel during this turbulent time.
Startups will have direct collaboration with Singapore Airlines Group companies' business teams; fast-tracked into the SIA Accelerator Programme; as well as receive mentoring by aviation and travel industry veterans.
CHALLENGE THEMES:
There are 3 themes featuring 10 challenge statements for participating companies to submit solutions to. These 10 challenges are explained in detailed here.
1) Seamless travel experience
How can we ensure a safe and seamless travel experience as air travel recovers and the number of passengers begin to increase?

How might we reimagine the in-flight gaming experience on personal entertainment devices within the infrastructure constraints of the aircraft cabin?

How might we offer a curated personalised in-destination travel itinerary to the undecided customer who is in the exploratory stage of the travel planning journey?
2) People and Operations
How can we simplify complex information on entry requirements for frontline agents so that they can easily assess customers' travel eligibility? 

How can we help pilots assess and take care of their mental health in a confidential manner?

How can we enable cabin crew to accurately and efficiently deliver pre-ordered meals to economy class passengers during flights?

How can we leverage computer vision and natural language processing to check for incomplete aircraft maintenance records?

How can we leverage natural language processing to interpret and validate the scope of repair orders in an efficient manner?

How can we optimise fuel consumption and identify implementable actions through predictive analysis?
3) Sustainability
How might we track and reduce packaging waste in collaboration with caterers and suppliers?
4) Wild card
Feel free to submit your proposal to the wildcard category if your solution is able to bring Singapore Airlines to the next level, but does not fit any of the challenge statements listed above. Innovation is limitless!
TIMELINE:
Deadline for Submissions: 30 June 2021, 23:59 PM (GMT +8)

Interview Round: 14 – 30 July 2021

Deep Dive Round: 16 August – 1 September 2021

Grand Finale: 17 September 2021
Detailed timeline is here.
MORE INFORMATION:
Website: https://appchallenge.singaporeair.com/en/challenges/startup-2021
Submit online application here.
Contact person: Ms. HUANG Xiaowen, Regional Director of Enterprise Singapore (HUANG_Xiaowen@enterprisesg.gov.sg).
There are virtual roadshows for more information about the challenge statements:
11 June 2021: Hear from the respective challenge statement hosts from the People & Operations theme in an Ask-Me-Anything session here

25 June 2021: Virtual Panel – NUS Enterprise Innovation Roundtable