(25 September 2021)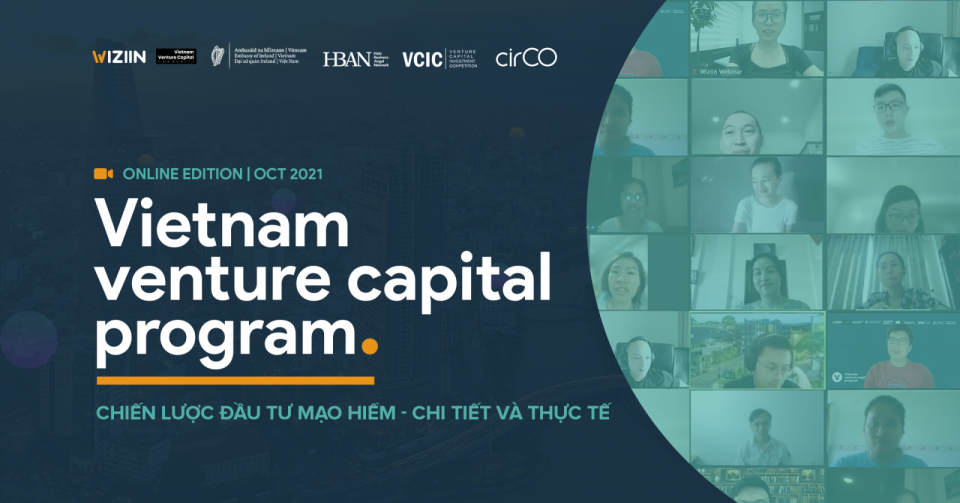 We are living in an era of entrepreneurs. Vietnam's startup ecosystem is rising which has produced several local success stories as well as venture deals continuously growing of all sizes. While there are many passionate and driven entrepreneurs, there are not as many supportive investors, especially in this emerging market. That's why Vietnam Venture Capital Program was established which is extremely focused on value creation and high-quality connection.
Delivered by Wiziin and Circo, Vietnam Venture Capital Program (VVCP) offers real-world experience and case-study-based practices, to help current and future investors fine-tune and apply their investment strategies. VVCP offers sharing programs, online webinars, and resources for professionals who want to improve their understanding of the venture capital ecosystem.
The Online Learning program in July 2021 starting on 9 October 2021 and ending on 17 October 2021
5 sessions corresponding to 5 modules designed logically by Prof. Patrick Vernon Clinical Associate Professor of Strategy and Entrepreneurship and Director of Venture Initiatives from UNC Kenan Flager Business School, explaining the life cycle of Venture Capital
Chat with Venture Partner from series Etalk Adventure to the venture
Staying in the loop of a growing investor network
Materials take away: Term sheet; Contract; DD Checklist; Real case study
What will you learn in 5 sessions?
The VC industry
VC Fundraising
Investments
VC Grow
Exit
How to join?
👉 Register at: https://bit.ly/VVCP-Oct2021
👉 Apply before 07 October 2021
👉 Fee: V̶N̶D̶ ̶1̶0̶.̶0̶0̶0̶.̶0̶0̶0̶
The program is proudly supported by the Embassy of Ireland in Vietnam with supporting half the participation cost for all registration for this October 2021 program. Besides, to encourage the venture community in Vietnam, participants will receive the following support:
🔥 Early registration before 26 September: VND 4,000,000
🔥 After 26 September :
– Group Discounts:
Group of 2: VND 4,500,000
Group of 3: VND 4,250,000
Group of 4: VND 4,000,000
🔥 Vietnam Venture Capital community member offer: VND 4,500,000
Don't miss your chance to be part of the growing VC community in Vietnam!