(14 June 2021)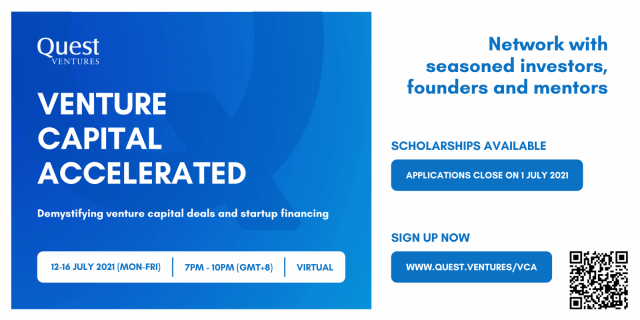 Sunwah Innovations is honored to call for the applications for Venture Capital Accelerated – a 5-day fast-track course about the fundamentals of venture capital led by Mr James Tan, Managing Partner of Quest Ventures.
Quest Ventures, a leading venture capital fund based in Singapore, is also a Partner of the Sunwah International Innovation Platform (SWIIP).
Venture Capital Accelerated demystifies venture capital deals and startup financing in an interactive and accelerated course for students, entrepreneurs, and professionals looking to break into the venture capital industry, advance their careers, gear up for fundraising, and enact changes in the startup ecosystem.
By tapping on Quest Ventures' large network of partners, founders, and mentors, you will be able to interact with key players who have amassed a wealth of experience in the venture capital scene to sharpen perspectives to strengthen investment fundamentals and apply learnings in simulations and real experiences.
At the end of the course, you will be able to begin your venture capital journey with your network of seasoned investors, founders and cohort, and a certification of achievement.
Scholarships
Applicants recommended by Sunwah Innovations are granted the opportunities to receive Quest Ventures Leadership Scholarship and exempted from the standard scholarship eligibility.
Register here: https://forms.gle/jjkVRKWNn9u6eBpT8
(input "Sunwah Innovations" on the second page under "Any comments or questions?".)
Deadline: 1 July 2021
Entry requirements:
CV screening

Video interviews

High commitment and potential contribution to the startup ecosystem are a must
Program details
Date: 12 to 16 July 2021

Time: 7pm to 10pm (GMT+8) everyday

The program includes:
Introduction to Venture Capital and the Business Model

Developing an Investment Thesis

Startup Evaluation

Marketing as a VC

The Due Diligence Process

Crafting an Investment Memo

Valuations and Returns

Vietnam Market Access
The program includes a panel and ask-me-anything session with Asia's top investors as guest speakers.
Participants are invited to apply the skill sets in a team-oriented Reverse Pitch, where you will be presented with a startup to ask the right questions, evaluate them, negotiate the terms, and pitch to justify for or against an investment.
Course Fee
Venture Capital Accelerated is USD 2,500 per individual, which is waived for scholarship recipients.
More information:
Website: https://www.questventures.com/academy/venture-capital-accelerated/
Contact: