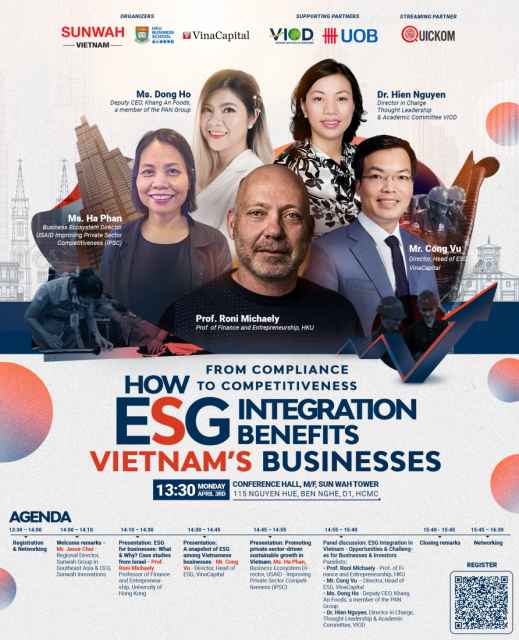 Environment, Social and Governance (ESG) has been becoming increasingly important consideration for businesses around the world, as investors, customers and other stakeholders demand greater transparency and socially responsible leadership. In Vietnam, ESG is also gaining momentum driven by the Government's agenda towards ESG practices and growing sustainable investments.
The event is designed for business leaders and professionals to explore how ESG factors can be integrated into the core strategy of Vietnamese businesses, going beyond mere compliance to create value for the company and society as a whole.
👉 𝗥𝗲𝗴𝗶𝘀𝘁𝗲𝗿: https://bit.ly/sunwah_hkubs_industryworkshop2023 by 31 March 2023. Seats are limited!
𝗪𝗢𝗥𝗞𝗦𝗛𝗢𝗣 𝗜𝗡𝗙𝗢𝗥𝗠𝗔𝗧𝗜𝗢𝗡
🔹 Time: 13:30 – 16:30 | Monday, 3 April 2023
🔹 Venue: Conference Hall, M/F Sun Wah Tower, 115 Nguyen Hue Blvd., Dist. 1, HCMC
🔹 Language: English
🔹 Who should attend: C-suite/Senior Executives, investors, ESG professionals
🔹 Organizers: Sunwah Group (Vietnam), Business School of the University of Hong Kong (HKU) and VinaCapital
🔹 Supporting Partners: the Vietnam Institute of Directors (VIOD), a member of Global Network of Director Institutes, and UOB (Vietnam).
𝗔𝗚𝗘𝗡𝗗𝗔
𝟭𝟯:𝟯𝟬 – 𝟭𝟰:𝟬𝟬 | 𝗥𝗲𝗴𝗶𝘀𝘁𝗿𝗮𝘁𝗶𝗼𝗻 & 𝗡𝗲𝘁𝘄𝗼𝗿𝗸𝗶𝗻𝗴
𝟭𝟰:𝟬𝟬 – 𝟭𝟰:𝟭𝟬 | 𝗪𝗲𝗹𝗰𝗼𝗺𝗲 𝗿𝗲𝗺𝗮𝗿𝗸𝘀 – Mr. Jesse Choi – Regional Director, Sunwah Group in Southeast Asia & CEO, Sunwah Innovations
𝟭𝟰:𝟭𝟬 – 𝟭𝟰:𝟯𝟬 | 𝗣𝗿𝗲𝘀𝗲𝗻𝘁𝗮𝘁𝗶𝗼𝗻: 𝗘𝗦𝗚 𝗳𝗼𝗿 𝗯𝘂𝘀𝗶𝗻𝗲𝘀𝘀𝗲𝘀: 𝗪𝗵𝗮𝘁 & 𝗪𝗵𝘆? 𝗖𝗮𝘀𝗲 𝘀𝘁𝘂𝗱𝗶𝗲𝘀 𝗳𝗿𝗼𝗺 𝗜𝘀𝗿𝗮𝗲𝗹 – Prof. Roni Michaely – Professor of Finance and Entrepreneurship, University of Hong Kong
𝟭𝟰:𝟯𝟬 – 𝟭𝟰:𝟰𝟱 | 𝗣𝗿𝗲𝘀𝗲𝗻𝘁𝗮𝘁𝗶𝗼𝗻: 𝗔 𝘀𝗻𝗮𝗽𝘀𝗵𝗼𝘁 𝗼𝗳 𝗘𝗦𝗚 𝗮𝗺𝗼𝗻𝗴 𝗩𝗶𝗲𝘁𝗻𝗮𝗺𝗲𝘀𝗲 𝗯𝘂𝘀𝗶𝗻𝗲𝘀𝘀𝗲𝘀 – Mr. Cong Vu – Director, Head of ESG, VinaCapital
𝟭𝟰:𝟰𝟱 – 𝟭𝟰:𝟱𝟱 | 𝗣𝗿𝗲𝘀𝗲𝗻𝘁𝗮𝘁𝗶𝗼𝗻: 𝗣𝗿𝗼𝗺𝗼𝘁𝗶𝗻𝗴 𝗽𝗿𝗶𝘃𝗮𝘁𝗲 𝘀𝗲𝗰𝘁𝗼𝗿-𝗱𝗿𝗶𝘃𝗲𝗻 𝘀𝘂𝘀𝘁𝗮𝗶𝗻𝗮𝗯𝗹𝗲 𝗴𝗿𝗼𝘄𝘁𝗵 𝗶𝗻 𝗩𝗶𝗲𝘁𝗻𝗮𝗺 – Ms. Ha Phan, Business Ecosystem Director, USAID – Improving Private Sector Competitiveness (IPSC)
𝟭𝟰:𝟱𝟱 – 𝟭𝟱:𝟰𝟬 | 𝗣𝗮𝗻𝗲𝗹 𝗱𝗶𝘀𝗰𝘂𝘀𝘀𝗶𝗼𝗻: 𝗘𝗦𝗚 𝗜𝗻𝘁𝗲𝗴𝗿𝗮𝘁𝗶𝗼𝗻 𝗶𝗻 𝗩𝗶𝗲𝘁𝗻𝗮𝗺: 𝗢𝗽𝗽𝗼𝗿𝘁𝘂𝗻𝗶𝘁𝗶𝗲𝘀 & 𝗖𝗵𝗮𝗹𝗹𝗲𝗻𝗴𝗲𝘀 𝗳𝗼𝗿 𝗕𝘂𝘀𝗶𝗻𝗲𝘀𝘀𝗲𝘀 & 𝗜𝗻𝘃𝗲𝘀𝘁𝗼𝗿𝘀 | Panelists:
– Prof. Roni Michaely – Professor of Finance and Entrepreneurship, HKU
– Mr. Cong Vu – Director, Head of ESG, VinaCapital
– Ms Dong Ho – Deputy CEO, Khang An Foods (a member of The PAN Group)
– Dr. Hien Nguyen – Director in Charge, Thought Leadership & Academic Committee, VIOD
𝟭𝟱:𝟰𝟬 – 𝟭𝟱:𝟰𝟱 | 𝗖𝗹𝗼𝘀𝗶𝗻𝗴 𝗿𝗲𝗺𝗮𝗿𝗸𝘀
𝟭𝟱:𝟰𝟱 – 𝟭𝟲:𝟯𝟬 | 𝗡𝗲𝘁𝘄𝗼𝗿𝗸𝗶𝗻𝗴