(23 September 2021)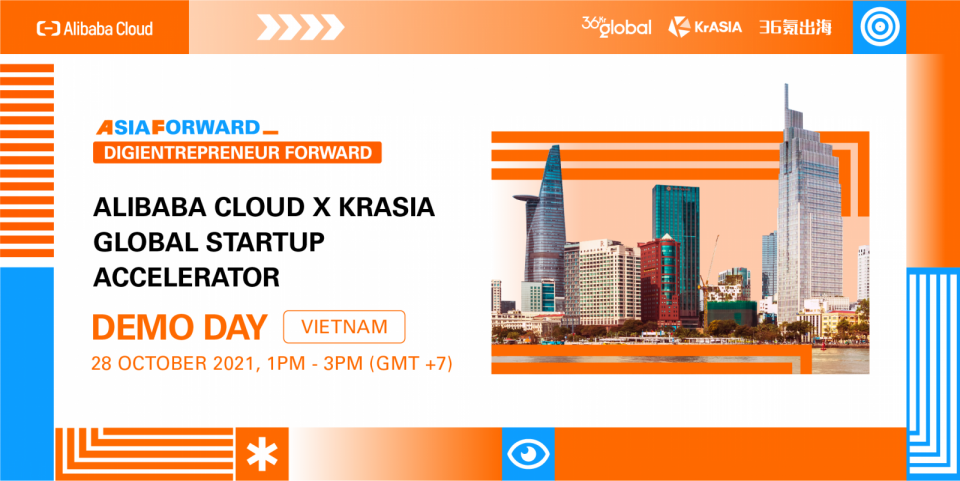 Aimed at increasing access to cross-border opportunities fueling the growth of startups and the ecosystem in Vietnam, Sunwah Innovations is pleased to be the Community Partner of the Alibaba Cloud x KrASIA Global Startup Accelerator for Vietnam market!
In June 2021, Alibaba Cloud announced its new Project AsiaForward initiative to bring digital transformation to local enterprises in Asia and nurture fresh talent. As part of Project AsiaForward, Alibaba Cloud is launching the Alibaba Cloud x KrASIA Global Startup Accelerator. A series of Demo Days will be held for startups to be selected for the Global Startup Accelerator and become part of Alibaba Cloud's global ecosystem.
Registration for the Vietnam Demo Day – specifically for startups based in Vietnam, operating in Vietnam, or have plans to enter Vietnam – is now open and will run until 6 October 2021, 11:59 p.m. (GMT +7). The Vietnam Demo Day will take place on 28 October 2021, from 1:00 p.m. to 3:00 p.m. (GMT+7). Startups from any industry, and operating at any stage are welcome!
This is a great chance to get on the radar of top SEA and China VCs, including Wavemaker Partners, ThinkZone Ventures, Vertex Ventures and ATM Capital. You'll also stand a chance to join Alibaba's global ecosystem, with opportunities to work with Fortune 500 companies in the ecosystem. There's also the opportunity to be featured on KrASIA, gain publicity in China on 36Kr, win USD 60,000 in Alibaba Cloud credit, and more.
Visit https://alibabacloud.kr-asia.com/ to learn more about the program!
Register at this link: https://bit.ly/3hYX6dT