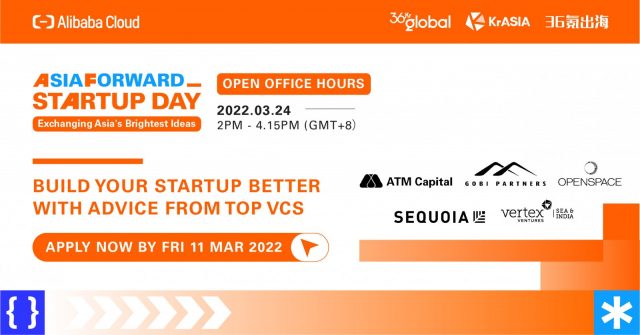 As the Community Partner, Sunwah Innovations is proud to present the AsiaForward Startup Day on 24 March, organized by

Alibaba Cloud SEA

. This is a full-day virtual event designed to get startups from China and Southeast Asia up to speed with the latest developments across both regions!
Lean in as mature Chinese tech companies and Southeast Asian VCs lift the hood on the parallels/differences between the tech scenes in China and Southeast Asia, and across four key industry-focused panels: robotics, AI, e-commerce, and fintech. Join the convo — send your questions!

For startups with interest to consult and network with some of Asia's leading investors such as ATM Capital,

Openspace Ventures

,

Sequoia Capital India

and

Vertex Ventures

Southeast Asia and India, we've also set the stage for 1-1 open office hour sessions, which you can stand a chance to take part in!

Whether you're looking to get your industry questions answered, looking for advice from investors, or simply to network with fellow startup leaders, the AsiaForward Startup Day is an event made for you!
  Take part here!
https://bit.ly/afstartupday-partners
  More details on Startup Day:
https://pafstartupday.kr-asia.com/