(22 March 2022)
On 22 March 2022, Sunwah Group received a delegation from Business Finland to visit the Sunwah Innovation Center Ho Chi Minh City to discuss the potential for cooperation between the two parties. From Sunwah Group, there were Mr Jesse Choi, Director of Sunwah Vietnam and Sunwah Innovations; and Ms Katie Nguyen, Deputy Director of Sunwah Innovations. From Business Finland, there were Mr Trung Nguyen, Commercial Counsellor of Embassy of Finland in Vietnam; and Ms Truc Doan, Senior Advisor.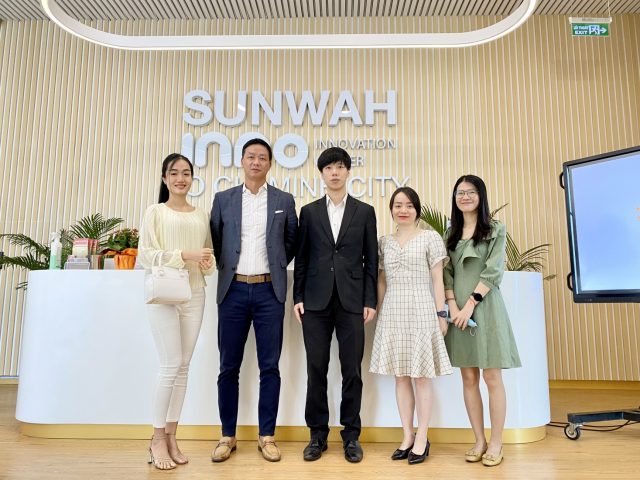 Mr Jesse Choi (middle), Ms Katie Nguyen (second from right), Mr Trung Nguyen (second from left), and Ms Truc Doan (first from left)
Business Finland is the entity under the Embassy of Finland in foreign countries. Business Finland office in Vietnam offers advisory services and support for finding local business networks and strategic consultants to help Finnish companies explore, enter and grow in the 100 million people market of Vietnam.
At the meeting, Mr Jesse Choi briefed the delegation on the history and operations of Sunwah Group worldwide and 50 years in Vietnam. Sunwah Innovation Center is the Group's latest initiative, established to participate in the development of innovation of local startup ecosystem in every location where Sunwah runs businesses In Vietnam, since 2018, Sunwah Innovation Center has been joining and sponsoring many activities and events to promote entrepreneurship and exchanges between Vietnam and other countries.
On behalf of Business Finland, Mr Trung Nguyen was very impressed with the long history of Sunwah Group in Vietnam and shared that he will definitely introduce the Sunwah Innovation Center to Finnish startups looking to enter the Vietnam market.
The two parties had an in-depth discussion about the strengths of each side and the potential for cooperation in the coming time. Both Sunwah and Business Finland agreed to utilize their resources to promote cooperation in environmental protection, renewable energy, and other potential sectors.
Mr Jesse Choi (right), Director of Sunwah Vietnam and Sunwah Innovations; and Mr Trung Nguyen (left), Commercial Counsellor of Embassy of Finland in Vietnam