(10 December 2021)
On 10 December 2021, the International Seminar titled "Guangdong-Hong Kong-Macao Greater Bay Area: Promising Opportunities Untapped for Vietnamese Startups", organized by Sunwah Innovations (Sunwah Group, Hong Kong) and the Ho Chi Minh City Department of Science and Technology, with support from the Hong Kong Science and Technology Parks Corporation (HKSTP) as Strategic Partner, was successfully held at Sunwah Innovation Center Ho Chi Minh City under the hybrid format. The Seminar received the attention of almost 200 participants joining both online and offline, including senior officials from Ho Chi Minh City Department of Science and Technology, Department of External Relations; Economic and Commercial Counsellor of China in Ho Chi Minh City; distinguished guests from various consulates general and business associations in Ho Chi Minh City including Consul General of Indonesia; Consul General of New Zealand; Consul of Cambodia; representative of Consulate General of Korea; leaders of the Hong Kong Trade Development Council and the Hong Kong Business Association in Vietnam. Other participants were experts, investors, supporting agencies, and leading organizations in the startup ecosystem of Vietnam and many other countries and regions including Mainland China, Hong Kong, Macao, Japan, Korea, Singapore, Cambodia. This Seminar is organized to introduce Vietnamese startups to the Guangdong-Hong Kong-Macau Greater Bay Area (GBA), an emerging market for technology and innovation in China as well as in Asia, and to provide fruitful discussions on supporting mechanisms from different stakeholders in the ecosystem to support Vietnamese startups on their journey to go global. The event is a part of Vietnam's largest annual national technology, innovation, and startup festival TECHFEST and Ho Chi Minh City Week of Innovation, Startups & Entrepreneurship 2021 (TECHFEST – WHISE 2021), chaired by the Ministry of Science and Technology of Vietnam.
In his welcome remarks, Mr Jesse Choi, Director of Sunwah Vietnam and CEO of Sunwah Innovations shared: "The GBA is a new market and is on its way to become a giant technology and innovation hub in the world. This Area, however, is not yet on the radar of Vietnam's startup scene even though many Southeast Asian startups have been turning to Hong Kong as an important gateway to access this thriving ecosystem. Therefore, we would like to introduce this exciting market to the Vietnamese startup community with this Seminar."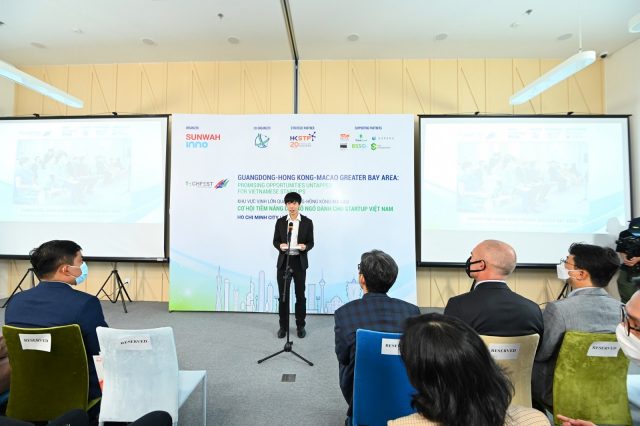 Mr Jesse Choi, Director of Sunwah Vietnam and CEO of Sunwah Innovations delivering the welcome remarks
"As one of the largest cities in Vietnam, Ho Chi Minh City's innovation startup ecosystem is attracting more and more resources from society, with a growing number of start-ups. Around 2,000 businesses are operating in the city, accounting for 50% of the country's total number, of which the number of startups in the field of information technology accounts for more than 65%. (…) At this International Seminar, we look forward to receiving more insights from experts and based on that to seek cooperation opportunities between Vietnam and the Greater Bay Area of Guangdong-Hong Kong-Macau in the fields of digital transformation, science, and technology, innovation, and entrepreneurship." Mr Nguyen Viet Dung, Director of the Ho Chi Minh City Department of Science and Technology, shared in his remarks.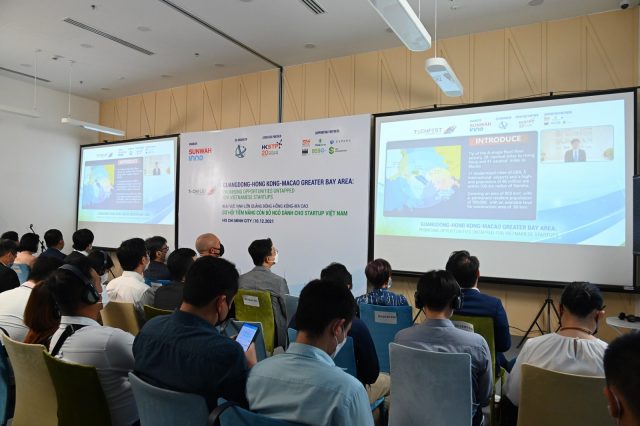 Participants joining the Seminar physically and virtually
The Seminar was kick-started with keynote speeches from Ms Le Hoang Uyen Vy, Co-Founder and General Partner of Do Ventures; Mr Jason Choi, Director of Sunwah Group, Chairman of the Sunwah Global Youth Innovation Center; and Mr Peter Mok, Head of GBA at HKSTP. The three notable experts delivered insightful speeches on "The tech investment landscape in Vietnam," "The GBA startup ecosystem landscape," and "Hong Kong as a springboard and gateway to GBA," respectively. The presentations featured the current landscape of entrepreneurship and innovation, particularly in the technology sector in Vietnam, Hong Kong, and the GBA region, while also analyzing potential opportunities and support in this new market for Vietnamese startups who plan to penetrate the Area.
 The panel discussion that followed, titled "How to pave a global path for Vietnamese startups," featured many valuable exchanges and insights from experts, including Mr Peter Mok; Mr Tony Tung, Managing Director of Gobi Partners; Mr Linh Han, Founder and Managing Partner, Vietnam Silicon Valley Capital; Mr Teddy Lui, Operations Director, Alibaba Hong Kong Entrepreneurs Fund; and Mr Vincent Fan, Co-Founder and CSO, Zeek. Mr Duc Dang, Head of Block71 Saigon, moderated the discussion session. Panelist experts agreed that guiding and supporting Vietnamese startups on their global journeys is critical to national economic growth, particularly in the development of innovation in Vietnam. GBA is a dynamic and promising market in Asia with distinct advantages that can be viewed as a suitable new direction for young Vietnamese startups embarking on their journey to reach out to the rest of the world. The experts also shared their experiences in attracting international startups to participate in the GBA ecosystem, as well as pointed out difficulties and challenges and suggested advice and valuable solutions for Vietnamese startups when developing their businesses and expanding into new markets.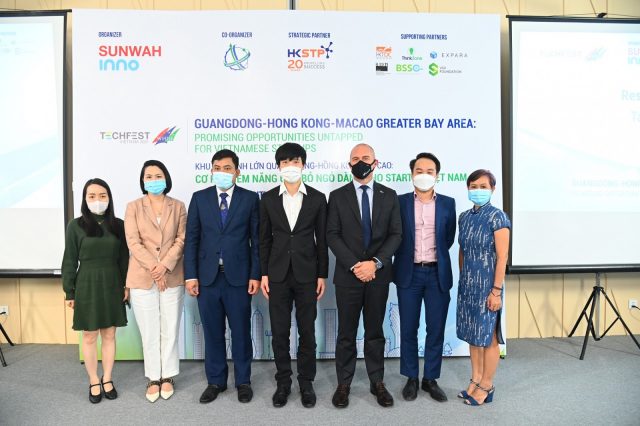 Mr Jesse Choi with distinguished guests and speakers
The Seminar concluded with a successful final session of reserved meetups between Vietnamese startups, startup supporting organizations and HKSTP to gain a better understanding of funding opportunities, preferential policies, legal procedures, and other considerations when entering a new market. Participants at the Seminar all expressed their appreciation for the high quality and useful insights provided by the event, and they expected it to become an annual activity connecting experts, startups, accelerators, incubators, and Sunwah Innovations' international partners. This not only promotes the globalization of Vietnamese businesses but also contributes to the country's overall development in the coming years.
Sunwah Group has been doing business in Vietnam for over 50 years. The Group marked its milestone in the field of innovation in December 2020 with the establishment of Sunwah Innovations and the opening of various Innovation Centers in Vietnam, Mainland China, and Cambodia, together with the launching of the Sunwah International Innovation Platform (SWIIP). These new initiatives aim to build a global innovation network using Sunwah's international resources and connect partners in the startup ecosystem in every location where the Group does business in order to foster an innovative economy and global common growth. The success of the International Seminar "Guangdong-Hong Kong-Macao Greater Bay Area: Promising Opportunities Untapped for Vietnamese Startups" as the kick-off event of SWIIP affirms a great start for Sunwah Group's future promising projects in supporting Vietnamese startups and promoting innovation in Vietnam.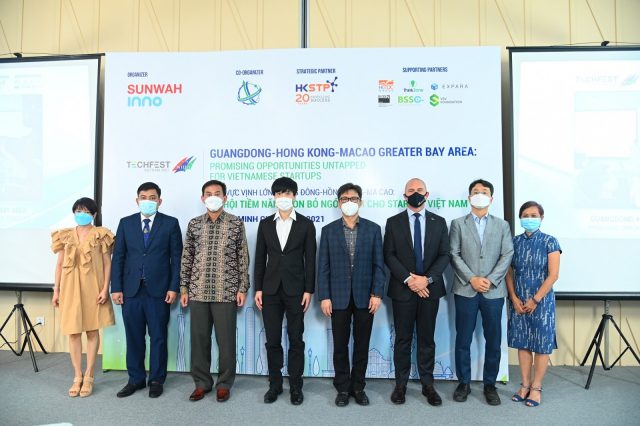 Mr Jesse Choi (fourth from left); Mr Nguyen Viet Dung (fifth from left), Director of the Ho Chi Minh City Department of Science and Technology; together with VIP guests at the Seminar