(28 April 2022)
On 28 April 2022, Sunwah Innovation Center received Ms Moon Min, Marketing Manager of Korea IT Cooperation Center (KICC) to explore cooperation between Sunwah and KICC. From Sunwah Innovations, there were Ms Katie Nguyen, Deputy Director; and Ms Thuy Ho, Partnership Manager.
KICC is the overseas office for supporting Korean ICT companies' international business under the Korean Ministry of Science and ICT and National IT Industry Promotion Agency.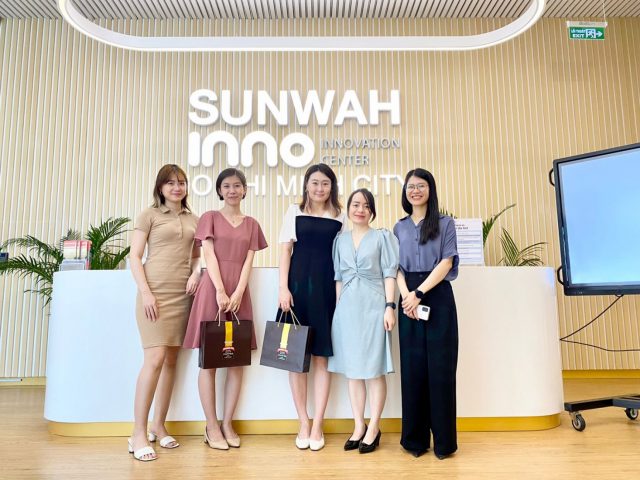 Ms Moon Min (third from left) and Ms Katie Nguyen (fourth from left)
At the meeting, Sunwah Innovations and KICC had an in-depth discussion about each other's vision and plans for upcoming innovation activities. Ms Katie Nguyen also shared about the special relationship between Sunwah Group Chairman, Dr Jonathan Choi, and Korea. Dr Choi is the Founding Chairman of the Hong Kong – Korea Business Council. He is also Honorary Ambassador of Foreign Investment Promotion for Korea, appointed by the Ministry of Trade, Industry and Energy. Therefore, Sunwah Group, in general, and Dr Choi, in particular, look forward to working with KICC in innovation activities between Vietnam and Korea as well as supporting Korean startups and SME in expanding their businesses to Vietnam.
KICC delegation was very impressed with the long history of Sunwah Group and its operations in Vietnam and noted that they will definitely introduce the Sunwah Innovation Center's services to Korean startups looking to enter the Vietnam market.
After the meeting, Sunwah and KICC confirmed to support and promote the other's activities in their network as well as continue to explore further collaboration opportunities between both parties.