(15 January 2021)
Sunwah – On 15 January 2021, Sunwah Innovations, a member of Sunwah Group, and University of Economics Ho Chi Minh City (UEH) have signed a memorandum of understanding (MOU) on joining the Sunwah International Innovation Platform (SWIIP) and cooperation in innovation activities.
The Signing Ceremony was held successfully at UEH campus with the participation of representatives from both parties. From Sunwah Group, there was Mr Jesse Choi, Director of Sunwah Vietnam and CEO of Sunwah Innovations. From UEH, there were Prof. Dr. Su Dinh Thanh, President of UEH; Dr. Pham Duong Phuong Thao, Deputy Head of Research Management and International Cooperation Department; Mr. Huynh Phuoc Nghia, Vice Director of UEH Institute of Innovation; and Dr. Trinh Tu Anh, Director of Institute of Smart City and Management.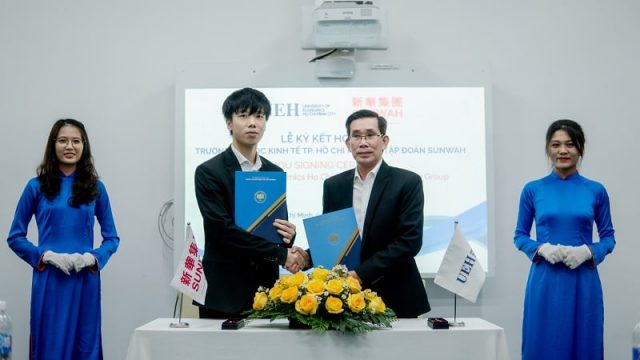 Mr Jesse Choi (left), Director of Sunwah Vietnam and CEO of Sunwah Innovations, and Prof. Dr Su Dinh Thanh (right), President of UEH, signed MOU on joining SWIIP and cooperation in innovation activities
Speaking at the Ceremony, Prof. Dr. Su Dinh Thanh shared that the cooperation with Sunwah Group and joining SWIIP will bring great benefits and more opportunities to UEH to extend its network of partners in Asia as well as develop more research projects in new areas such as smart city, innovation and technology management.
Mr Jesse Choi introduced about Sunwah Group's 50 years of operations in Vietnam, contributing to not only economic sector but also social development of Vietnam through many activities organized by Sunwah Foundation and Jonathan KS Choi Foundation. He also highlighted the long-standing relationship between Sunwah and UEH which started in the 2010s. Since 2011, Sunwah Foundation has provided scholarships for 30 students from remote areas of Vietnam to study at UEH. In April 2020, during the outbreak of COVID-19 pandemic in Vietnam, Dr Jonathan Choi, Chairman of Sunwah Group, donated 2,500 medical masks to the University to assist healthcare officials, frontline workers and student volunteers at the pioneer hospitals and quarantine areas in Ho Chi Minh City.
Sunwah Innovations and UEH also had an in-depth discussion about potential cooperation projects that can be implemented in 2021 including co-organizing training programs or exchange events; connecting UEH to other universities, accelerators and venture funds using SWIIP's extensive network; and many more.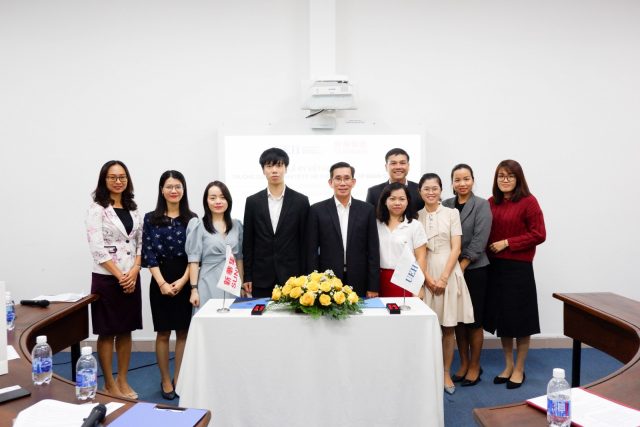 Group photos of representatives from Sunwah Group and UEH
After the Ceremony, Sunwah Group representatives visit the exhibition on technology and art in UEH campus which is a part of the SMARTCITY + ArtTech Fusion Week, organized by the University. In the same evening, Ms Katie Nguyen, Vice Director of Sunwah Innovations, participated as one of the panelists in the seminar entitled "Talk: From START to UP", organized by UEH Institute of Innovation.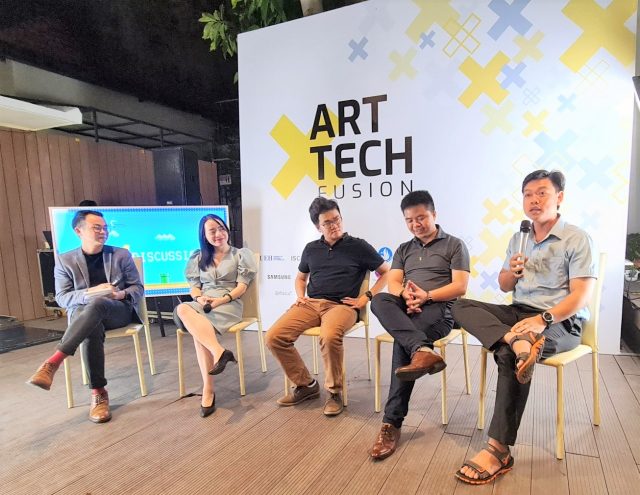 Ms Katie Nguyen (second from left), Vice Director of Sunwah Innovations, one of the panelists at the "Talk: From START to UP" seminar