(25 May 2022)
On 25 May 2022, The Sunwah Innovations and Alibaba Cloud Partnership Launching Event was successfully held at Sunwah Galleria, Ho Chi Minh City. The whole event received the attention of around 70 participants from business associations, universities, startup founders, experts, investors, representatives of supporting agencies, and leading organizations in the startup ecosystem of Vietnam and other neighboring countries as well as senior executives of Sunwah Innovations and Alibaba Cloud.
Sunwah Innovations, a member of Hong Kong-based Sunwah Group, has been utilizing the Group's resources and its 50-year history of operating in Vietnam to establish a strong network of stakeholders in the local startup ecosystem. Alibaba Cloud, the digital technology and intelligence backbone of Alibaba Group and Asia Pacific's largest Infrastructure-as-a-Service (IaaS) provider according to Gartner's 2022 report, offers a complete suite of cloud services to customers worldwide. The event demonstrates both companies' commitment to a year-long cooperation focusing on boosting the growth of the Vietnam startup community and facilitating more vibrant exchange among Asian startup ecosystems.
The two parties plan to work together to promote entrepreneurship among Vietnamese youth and provide more support for the Vietnam startup ecosystem. In addition, both sides plan to co-organize various events to strengthen communication and exchange between Vietnamese stakeholders and their international peers which in turn can boost Vietnamese startups in their going-global journey and support overseas startups to expand their business to Vietnam. Vietnamese startups will also have opportunities to participate in extensive innovation and technology events hosted by Alibaba Cloud. Both Sunwah Innovations and Alibaba Cloud are committed to supporting academic institutions in Vietnam in information and technology training fields to help nurture digital talents and future developers.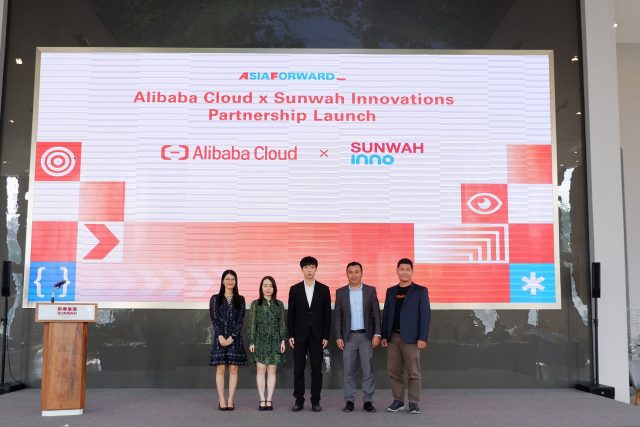 Sunwah Innovations – Alibaba Cloud Partnership Launch
In his welcome remarks, Mr Jesse Choi, Director of Sunwah Vietnam and CEO of Sunwah Innovations, shared: "Since its establishment, Sunwah Innovations has been an active player in the Vietnam startup ecosystem and created a strong network of local stakeholders. We have been positioning ourselves as a resourceful platform for aspiring entrepreneurs, early-stage startups and other stakeholders in the ecosystem. After the first discussion with the Alibaba Cloud team, I realized that we both share mutual vision and commitment to contribute to the development of the Vietnam startup scene. With goodwill, clear vision and a strong commitment, we look forward to seeing the relationship between Alibaba Cloud and Sunwah Innovations grow and flourish in the years to come."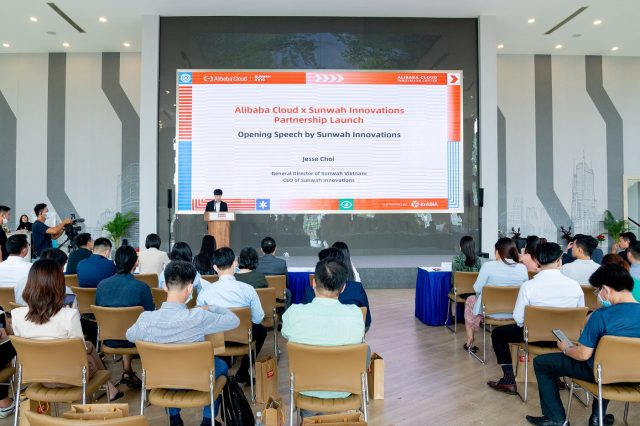 Mr Jesse Choi delivered the Opening Speech
"Vietnam is one of the markets with great growth potential in the Asia Pacific region. As the market continues to transform through technology and digitalization, the market's vibrant startup community is even more active than ever", said Ms Tifi Liu, Head of Marketing for Alibaba Cloud Indonesia and Vietnam. "In Vietnam, we are happy to collaborate with partners such as Sunwah Innovations to empower Vietnam's startup community. We look forward to working with more ecosystem partners in Vietnam and leveraging our resources to help startups unleash their potential."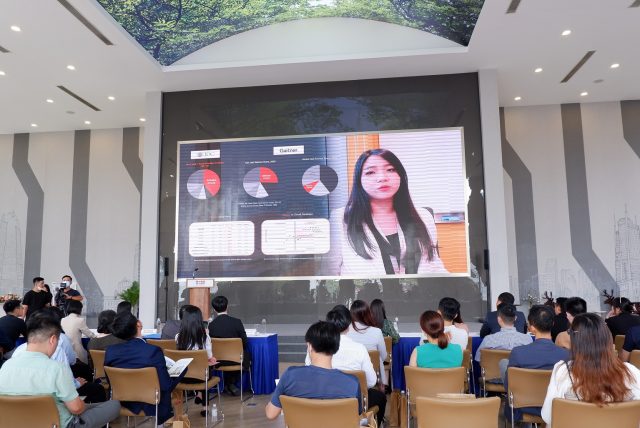 Ms Tifi Liu delivered an introduction about Alibaba Cloud
As part of the kick-off for this new collaboration, the "Alibaba Cloud x KrAsia Global Startup Accelerator" Vietnam Demo Day was also organized on-site for the first time in Ho Chi Minh City. This is a valuable opportunity for local startups and aspiring entrepreneurs to pitch their innovative ideas in-person to the most active venture capital firms in Vietnam. Top 10 startups work on disruptive solutions addressing various problems and changing customer behaviors due to the Covid-19 pandemic. Many of them are also riding the metaverse storm and applying it in various sectors like art, education, entertainment and culture. Dutycast, an innovative browser and app value-added extension to provide users with a secure and transparent, end-to-end international shopping experience thanks to AI-based technology and close integration with fulfillment and logistic providers in various countries, won the Country Star prize. All of the judges agreed that Dutycast solved challenges of cross-border shopping caused by the pandemic and changing trading policies and regulations, showing the high potential to scale and expand to international markets. In addition to Alibaba's cloud provision and access to Sunwah Innovation co-working space, the winning startup will receive technology and expertise support from both Alibaba Cloud and Sunwah Innovations to fuel its growth plan.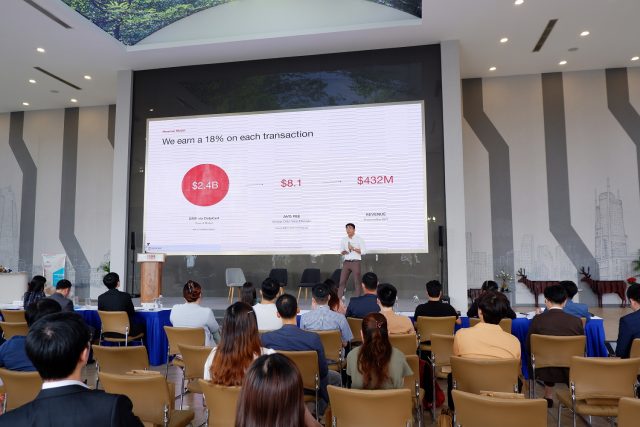 Pitching sessions (with the winning startup Dutycast on stage)
Witnessing the resilience and strong rebound of the Vietnam startup ecosystem over the past two years, the event also brought in two panels to discuss emerging opportunities and exciting updates of the venture capital landscape in Vietnam post-pandemic.
The first panel discussion, titled "Opportunities in the Vietnamese startup ecosystem," featured many valuable exchanges and insights from experts, including Mr. Nguyen Quoc Thai, Channel Business Development Lead of Vietnam, Alibaba Cloud Intelligence; Ms Tra Hoang, Managing Partner of VSV Capital; and Mr Khiet Vuong, Incubation Manager of University of Economics Ho Chi Minh City Institute of Innovation. Ms Van Nguyen, Partnership Manager of Startup Vietnam Foundation, moderated the discussion session. Characterized with a sufficient pool of competitive and high-quality technology talents and developers, all panelists agreed Vietnam held high potential to reach a new height in the regional startup ecosystem. The importance of the government's innovation initiatives and entrepreneurship education is again emphasized. This is vital to help scientists, researchers and developers become entrepreneurs. From the university perspective, the young generation is the key driver to fostering the growth of the country's startup ecosystem when the students now are soon exposed to trendy technologies and the number of student startup projects amounts to around one-fifth of the total number of startups in Vietnam.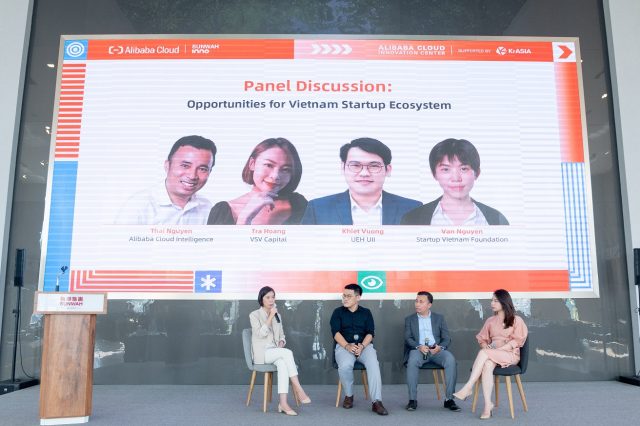 First panel discussion
The second panel discussion, titled "Post-pandemic Vietnam Venture Capital landscape and Implications for Vietnamese startups", received the participation of representatives of leading venture capital firms in Vietnam and Southeast Asia, including Mr Truc Tran, Investment Manager of Do Ventures; Ms Chelsea Nguyen, Investment Manager of Thinkzone Ventures; and Mr Cody Pham, Head of Investment of TheVentures. Mr. Alvin Koh, Co-founder and CEO of LOOP Smart Retail, moderated this session and represented the startup view. The panelists shared their views on the impact of Covid-19 pandemic on Vietnam startup ecosystem which has affected their firms' investment strategies. Despite the severe impact of the Covid-19 outbreak, many investors continue to view Vietnam's startup ecosystem as an appealing destination in the region. In 2021, Vietnam's startup ecosystem witnessed numerous milestones, achieving a new record of USD 1.3 billion in venture capital investment. While the pandemic hit hard on the hospitality and tourism sectors, it also brought huge opportunities for the startups working on enterprise solutions, fintech and e-commerce. Sustainability and ESG-focused have also become key metrics for the investment firms when looking for deals. Startups who are able to deliver unique and impactful values to their target customers are more likely to stay long despite "black swan" situations. Finally, to have a successful startup journey, the VCs advised startups to make fundraising a habit, choose the right partner from the beginning, build a strong founding team and ensure product-market fit and set a strong base in the local market first.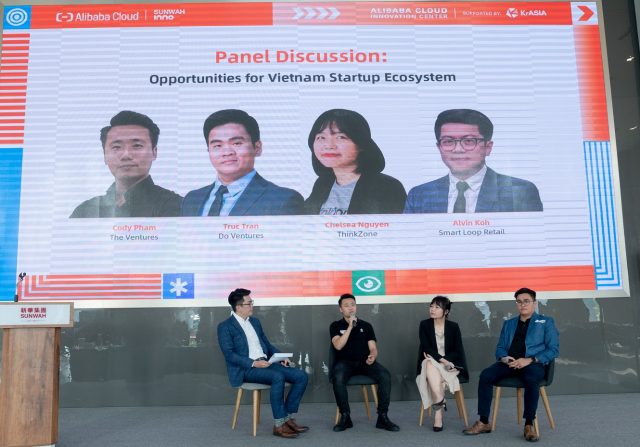 Second panel discussion
The Seminar concluded with a networking session for all participants. The guests and startups at the Event all expressed their appreciation for the high quality and useful insights provided by the speakers, and they expected Sunwah Innovations and Alibaba Cloud will co-organize more events connecting experts, startups, accelerators, incubators, and their international partners. This not only promotes the globalization of Vietnamese businesses but also contributes to the country's overall development in the coming years.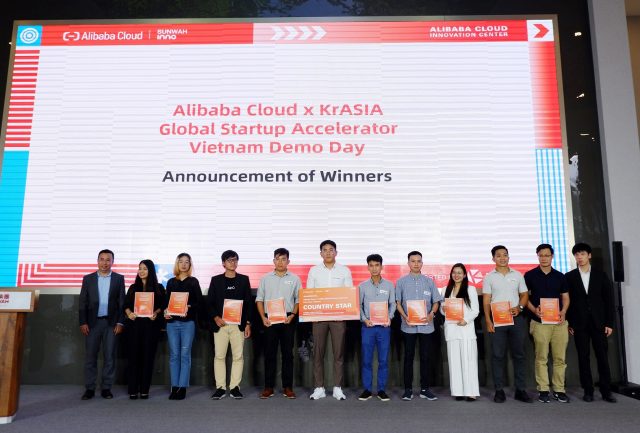 Top 10 Finalists with Sunwah Innovations and Alibaba Cloud reps
Alibaba Cloud is the digital technology and intelligence backbone of Alibaba Group. Alibaba is the world's third-leading and Asia Pacific's leading IaaS provider by revenue in 2021 in U.S. dollars, according to Gartner's April 2022 report. Currently, Alibaba Cloud has 84 availability zones across 27 regions globally, offering a complete suite of cloud services to customers worldwide, including elastic computing, database, storage, network virtualization services, large-scale computing, security, management and application services, big data analytics, a machine learning platform and IoT services. For more information: www.alibabacloud.com
Sunwah Group has been doing business in Vietnam for over 50 years. The Group marked its milestone in the field of innovation in December 2020 with the establishment of Sunwah Innovations and the opening of various Innovation Centers in Vietnam, Mainland China and Cambodia, together with the launching of the Sunwah International Innovation Platform (SWIIP). These new initiatives aim to build a global innovation network using Sunwah's international resources and connect partners in the startup ecosystem in every location where the Group does business in order to foster an innovative economy and global common growth. For more information: www.sunwahvietnam.com | www.swinno.com.vn