(7 April 2022)
On 7 April 2022, at Sunwah Innovation Center, Mr Jesse Choi, Director of Sunwah Vietnam and Sunwah Innovations, received a delegation from the National Innovation Center (NIC) led by Mr Do Tien Thinh, Deputy Director of NIC.
Established in 2019 under the then Prime Minister Nguyen Xuan Phuc's decision, NIC is a unit of the Ministry of Planning and Investment. NIC aims to support, and develop the startup ecosystem and innovation, and contribute to innovating the growth model on the basis of scientific and technological advancement. NIC is also a part of the Government's efforts to join the 4th Industrial Revolution and the Government will expand this model if the NIC is successful.
Previously, on November 2021, during his trip to Hanoi, Mr Jesse Choi had visited and met with Mr Do Tien Thinh, Deputy Director of NIC, at the Center's Headquarters. At today's meeting, the two parties had a fruitful discussion on the potential for collaboration in the coming time. As Sunwah has a strong network of stakeholders in the innovation field, both local and international markets, NIC proposed to have the Group's support in facilitating more exchanges between startups in Ho Chi Minh City and Hanoi of Vietnam as well as between Vietnamese startups and international ones. In addition, Sunwah Innovation Center Ho Chi Minh City, although just launched in December 2020, has been very active in the Vietnamese startup ecosystem; therefore, Mr Thinh invited Sunwah to share experience in operating innovation centers with local agencies in other provinces of Vietnam.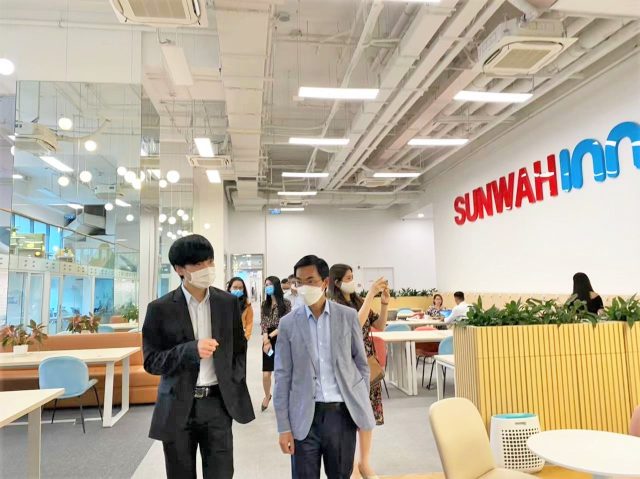 Mr Jesse Choi (left), Director of Sunwah Vietnam and Sunwah Innovation; and Mr Do Tien Thinh (right), Deputy Director of NIC
Mr Jesse Choi shared about the upcoming events of Sunwah Innovations that promote exchanges between the Vietnamese startup ecosystem and the Greater Bay Area/Hong Kong startup ecosystem. Furthermore, in 2022, Sunwah Innovations will run its own incubation, and acceleration program for Vietnamese startups; therefore, Mr Jesse hoped NIC, with its connection with the government and network of partners, will provide support for Sunwah's events and programs.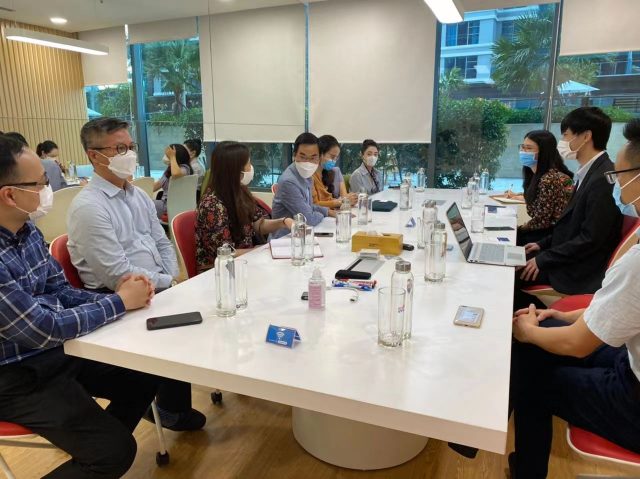 NIC delegation and Sunwah Group had a fruitful discussion
At the end of the visit, both sides confirmed to support each other's upcoming activities and decided to enter into an MOU to facilitate better collaboration.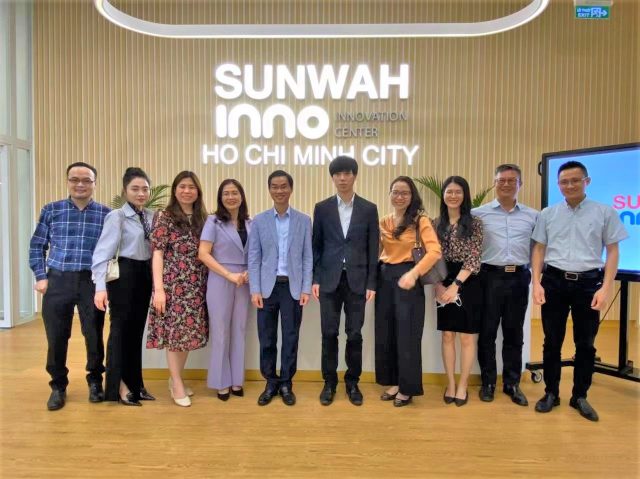 NIC delegation and Sunwah Group representatives took group photos at Sunwah Innovation Center Ho Chi Minh City