On 28 June 2022, Sunwah Innovations in partnership with Vietnam National Innovation Center (NIC) and InnoLab Asia organized the "Vietnam Market Entry Opportunities and Strategy" international webinar to introduce the potential of the Vietnam market to overseas audiences. The webinar received around 150 participants including corporates, startups, universities, incubators and accelerators, venture capital firms, and business associations from Vietnam and many neighboring countries and cities, especially from Cambodia, Singapore, Japan, South Korea, mainland China, and Hong Kong.
Vietnam has seen its significant improvements in developing a dynamic and open business environment while still putting the COVID-19 outbreak under control. In the post-pandemic period, the country stands firm as one of the most attractive destinations in the Southeast Asian region for foreign investors and businesses including venture capital firms and startups.
Realizing an increasing need from overseas startups and supporting organizations to explore and gain footholds in the market, Sunwah Innovations organized the "Vietnam Market Entry Opportunities and Strategy" webinar as a sharing channel to discuss the characteristics and trends of Vietnam startup ecosystem, as well as help foreign businesses gain in-depth knowledge about the policies and support from the Vietnamese government for entrepreneurial and innovation-related activities to make Vietnam an appealing destination for international startups. During the webinar, the speakers also shared about challenges and recommended approaches when doing business in Vietnam and exchanged thoughts on how to better attract and provide more support for the market penetration plan of foreign startups.
In his welcome remarks, Mr Jesse Choi, CEO of Sunwah Innovations and Director of Sunwah Vietnam, said "Since our first operation in 2018, Sunwah Innovations has been working with local and international partners to organize many meaningful programs for Vietnamese startup community, notably bringing Vietnamese startups to Hong Kong to participate in the international startup competition organized by the Hong Kong Science and Technology Parks; or the recent international seminar co-organizing with the Ho Chi Minh City Department of Science and Technology on introducing the Guangdong – Hong Kong – Macao Greater Bay Area to Vietnamese startups. Today's webinar is also another effort of Sunwah Innovations to promote exchanges and sharing experiences among stakeholders in the local and international startup ecosystems."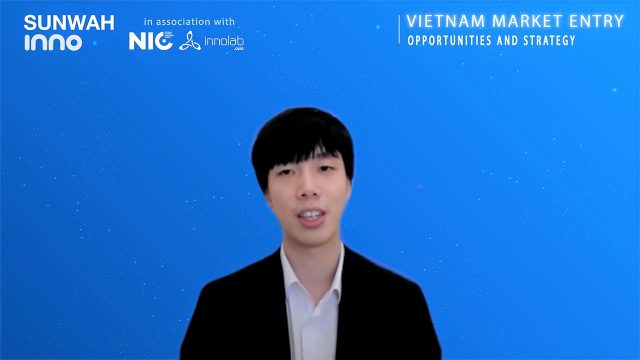 Mr Jesse Choi in his welcome remarks
As shared by Mr Do Tien Thinh, Deputy Director of NIC, who is also one of the keynote speakers, the Vietnam Government has issued many mechanisms and policies to attract and support FDI enterprises, including foreign startups. The Law on Investment (2020) clearly states that innovative startup projects, innovation centers, research and development centers are the beneficiaries of investment incentives, including tax incentives; import tax exemption for certain types of goods; exemption or reduction of land use levy and land rent; increase the amount of time and deductible expenses when calculating tax on asset depreciation; and many more. Mr Thinh also noted that the Government is in the process of simplifying procedures for foreign investors to set up innovative small and medium-sized businesses and startup funds in Vietnam. Finally, Mr. Thinh highlighted eight factors that make Vietnam a magnet for FDI enterprises such as political stability, young population and high-quality talent pool, deep and extensive international integration, etc.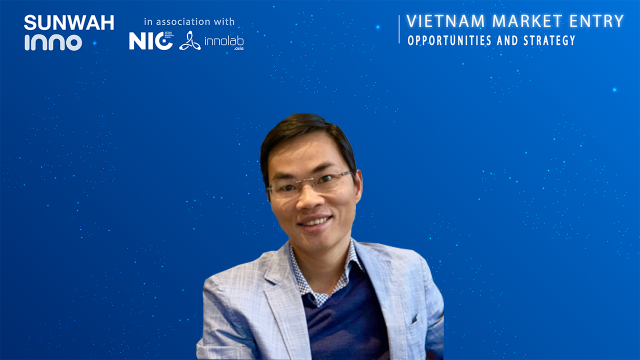 Sharing by Mr Do Tien Thinh
As for the potential of the Vietnam startup market, Mr Cong-Thang Huynh, Co-Founder and Director of InnoLab Asia (the execution and consulting partner on innovation for the Open Innovation Vietnam Initiative under the Vietnam's Ministry of Science and Technology), shared the same view with Mr. Thinh on the attractiveness of the Vietnamese market. However, he emphasized foreign businesses should go through a market entry framework of 4 main steps, including analyzing market potential, understanding the competition landscape, reflecting their own capabilities and financial implications for at least three months before starting the go-to-market plan to Vietnam. He highly recommended overseas startups to join local incubators or accelerators to validate the market potential, optimize the product-market fit and accelerate their market entry.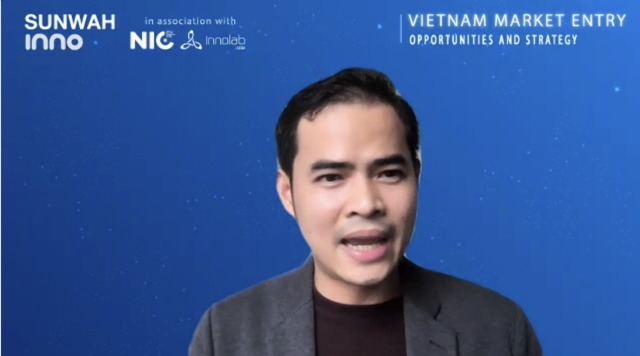 Mr Cong-Thang Huynh presented at the webinar
The panel discussion on "Vietnam market entry: Opportunities and How to collaborate with Vietnamese companies", featured many valuable insights from experts, including  Mr Cong-Thang Huynh; Mr Tim Lee, Co-founder and CEO of CARRECT, who is a South Korean entrepreneur choosing Vietnam for his startup business; Mr Vinnie Lauria, Founding Partner of Golden Gate Ventures; Ms Katie Nguyen, Vice Director of Sunwah Innovations. Mr Kevin Vuong, Incubation Manager of the Institute of Innovation under Ho Chi Minh City University of Economics, moderated the discussion session.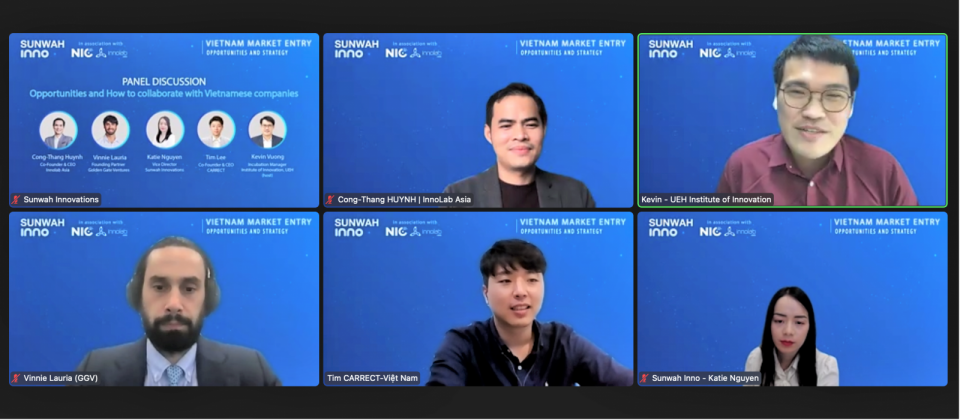 The panelists during the discussion
All the panelists were impressed with the growth of the Vietnam startup ecosystem and highly positive about its potential for overseas startups and investment funds to tap into. A record high of 1.3 billion USD venture capital investment was poured into the ecosystem, with FinTech, MedTech, E-commerce, and SaaS, B2B services as the prominent sectors, meanwhile, AgriTech, GreenTech, DeepTech, FoodTech are promising areas to boom in the next few years. The recent generation of Vietnamese entrepreneurs, from 2015 until now, also carried a regional mindset when starting up businesses, which opened opportunities for foreign founders to co-found or join hands with local startups and utilize local insights when expanding business into Vietnam, said Mr Cong-Thang Huynh. 
Golden Gate Ventures' doubling down on Vietnam with two offices in Hanoi and Ho Chi Minh City showed its commitment to increasing investments in Vietnam and also enhancing the going-global capability of the ecosystem, so Vietnam can be an important gateway for startups to expand regionally, said Vinnie Lauria.
Though starting his startup in Vietnam right on the first-ever outbreak of the pandemic, Tim Lee was also confident that Vietnam is a good launchpad for his startup to expand to Southeast Asia thanks to the strong economic recovery and soaring digital demands post-pandemic. Finding right partners by being actively engaging in the ecosystem and leveraging the networks of the investors was a key to CARRECT's growth in Vietnam.
Relationship and trust-building was highly important for overseas companies to succeed in Vietnam, said Ms Katie Nguyen, when the role of cross-border ecosystem builders and local support organizations come into play. Inheriting an extensive local network from the Group's over 50 years doing business in Vietnam, Sunwah Innovations is dedicated to being a local connector and supporting international startups to explore the market.
After the webinar, two selected foreign startups with solid go-to-market plans to Vietnam will have the opportunity for the 1:1 discussion with representatives from Innolab Asia and Sunwah Innovations to receive feedback and recommendations for a smooth entrepreneurial start in the country. 
—————————————————–
Sunwah Group has been doing business in Vietnam for over 50 years. The Group marked its milestone in the field of innovation in December 2020 with the establishment of Sunwah Innovations and the opening of various Innovation Centers in Vietnam, Mainland China and Cambodia, together with the launching of the Sunwah International Innovation Platform (SWIIP). These new initiatives aim to build a global innovation network using Sunwah's international resources and connect partners in the startup ecosystem in every location where the Group does business in order to foster an innovative economy and global common growth. For more information: www.sunwahvietnam.com | www.swinno.com.vn 
Vietnam National Innovation Center (NIC) is a unit under the Ministry of Planning and Investment, established by the Prime Minister in Decision No. 1269/QD-TTg dated 2 October 2019 with the aim of supporting and developing Vietnam startup and innovation ecosystem, contributing to innovating the country's growth model based on science and technology. The Center will be the focal point in the development of innovation mechanisms and policies; attracting local startups to participate in the innovation process; cooperating with organizations, research institutes, investment funds, etc. to improve the talent pool and promote entrepreneurship in Vietnam. For more information: www.nic.gov.vn
Innolab Asia is the implementation partner for Open Innovation Vietnam, a national initiative launched by National Agency for Technology Entrepreneurship and Commercialization Development (under Vietnam Ministry of Science and Technology) in 2018 with the vision of developing an open innovation platform connecting corporates, SMEs with the startup ecosystem in Vietnam towards 2025. For more information: www.innolab.asia